Morgan Residences by New Apec Homes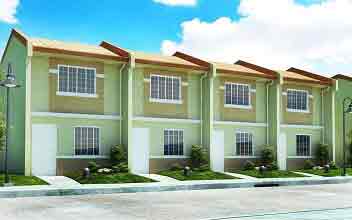 Project Type : Townhouse
Listing Type : Preselling
Units : Townhouse
Price: ₱ 833,056 & Up
Address : San Bartolome
Location : Santo Tomas , Batangas PH Morgan Residences New Apec Homes Morgan Residences Morgan Residences New Apec Homes Morgan Residences Santo Tomas
https://morganresidences.buyapechomes.com
Set against the backdrop of Mt. Makiling on the northeast, this socialized housing project , another of New Apec Development Corp.'s (NADC) offering, is a classic example of the Filipino "luntiang kapaligiran" (green environment) because of its proximity to the mountain's nearest slope (less than 3km) which is still covered in lush green, thick forest and swirling clouds that almost touch your face in the morning. The site is itself full of life and greens, calmness and utmost serenity. The site is located on the same road as the giant manufacturing plant YKK and St. Cabrini Medical Center, and they are just less than 500 meters apart. The site is also near the Jesus is Lord Christian School, Sto. Tomas North Central School, Sto. Tomas Fire Station, Tanauan Institute, Christian College of Tanauan, La Consolacion College, C.P. Reyes Hospital, Philtown Industrial Estate, First Industrial Township, Pepsi-Cola Products Philippines and other Sto. Tomas' famous landmarks and its neighboring town (Tanauan).
Morgan Residences covers 3.21-hectare of prime land and is primarily located along San Bartolome Road, Brgy. San Bartolome, Sto. Tomas, Batangas. This road traverses the Maharlika Highway (Pan Philippine Highway) leading to Quezon province (east side) and part of Laguna (San Pablo and Alaminos) and further south to the Bicol Region and SLEX to the west going to Alabang as the gateway to Metro Manila. This awesome community offers typically 2-storey Townhouse in inner and end lots having average lot area of 36sqm while floor area averages 44sqm, in bare type and completely finished units. All units have sizable living, dining and kitchen areas with front yard and service and laundry areas provided. Equipped with recreational and functional amenities and facilities, this product stands out among other residential projects in the area.
The Morgan Residences has some of the finest amenities and common features seldom found in a low cost housing project, it has basketball court engulfed by beautifully trimmed grass, parks and playground, landscaped gardens, multipurpose hall, jogging path, landscaped gated entrance with guardhouse and 24/7 security, perimeter fence, centralized water distribution system, wide concrete roads, concrete curbs and gutters, underground drainage system and strategically placed fire hydrants, among others.Other schools located at the town proper include San Pedro National High School and San Jose National High School. There are still various shopping and leisure centers, fine dining, retail strips, convenient stores, fast food chains, and other interesting places near the site.
New Apec Homes, Morgan Residences, Townhouse for Sale in Batangas, Philippines. For price list, model house, floor plans, payment terms, CHAT LIVE with an agent 24x7. If you're looking to find New Apec Homes, Morgan Residences for Sale, then check here first. We have full details of New Apec Homes, Morgan Residences for Sale updated regularly. Everything you need to know about New Apec Homes, Morgan Residences Townhouse buying process, broken down into stages. Includes selecting a unit, choosing a payment plan and buying your dream home at the right price.
Popular Links
Morgan Residences
Morgan Residences Location
Morgan Residences For Rental Units
Morgan Residences Resale Units
Morgan Residences Pre-Selling Units
Morgan Residences Showroom
Morgan Residences Amenities
Morgan Residences Price
Morgan Residences Contact
Available Units